Anti Corrosive Pumps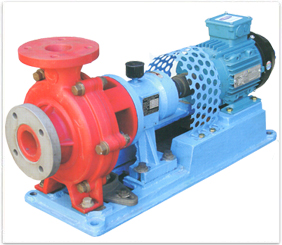 INFORMATION
Flow Control Pumps & Systems Pvt . Ltd. specialized in the field of metering pumps & dosingsystems are now into centrifugal pumps manufacturing for corrosive and hazardous chemical inprocess plants.

Anti Corrosive Pumps are manufactured to the highest standards of design, material and workmanship. Each pump undergoes a rigorous system of checks receives a reliable and efficient pumps capable of giving years of trouble free service.

Due to special, design, stringent quality standards and prompt services all over india. These pumps are used by various chemical manufacturers to their complete satisfaction.
CASING & BACKPLATE
The top centerline discharge, self-venting Casting and backplate are solid moulded and jointless. The back pullout design of the pump permits removal of the rotating assembly without disturbing the system installation.

Foot support as integral part of casing moulding is designed for maximum resistance to misalignment and distortion from pipe loads & also to avoid corrosion effect of the liquid leakges and atmospheric conditions.
IMPELLER
Impeller is of semi open design matched to casing and dynamically balanced for higher effciency. It does not
have choking problems and even handles solids slurries efficiently.

Impeller is screwed on shaft, with rotation to tighten and threads are sealed, suitable lock nut makes removal
easy and minimizes frictionallosses.
SHAFT SEAL
Choice of packed gland box or mechanical seal. Almost any seal will fit without modification of pump. Fully confined gland packing provides more safety. Also protects alignment free from liquid.
SLEEVE
Renewable shaft sleeve. positive driven, is used either in glass filled PTFE or ceramic or with extension in Hastalloy-Cor Alloy -20 based on the suitability of chemicals to be handled.
APPLICATIONS
| | | |
| --- | --- | --- |
| | - | |
| | - | |
| | - | |
| | - | |
| | - | |
| | - | |
| | - | |
| | - | |
| | | |
SPECIAL FEATURES
•
PVDF and Polypropylene Pumps are designed for hard to handle corrosive and hazardous chemicals.
•

Components are designed to provide more opertional safety.
•

The wetted components of the pumps i.e casing, impeller, backplate, gland pusher & impeller nut are
solid moulded and jointless.
•

Liquid passage & contact surface of Anti Corrosive Pumps are smoothly contrured and are good in strength.
•

The pump has hardened shaft with double bearing & dynamically balanced impeller which gives trouble
free and smooth operation.
•

Shaft is designed for deflection not more than 0.05 mm at face of stuffing box. All critical surfaces are ground to less than 0.08 micron RMS to ensure low maintenance & long life of seal as well as bearings.
•

Bearing Block Adopter is made of glass filled polypropylene to avoid corrosion due to leakage through glands.
•

Anti Corrosive Pumps are provided with grafoil gland packing or appropriate mechanical seal.
•

The pumps are available upto 60m3 / hr capacity & maximum heads upto 45 meters.